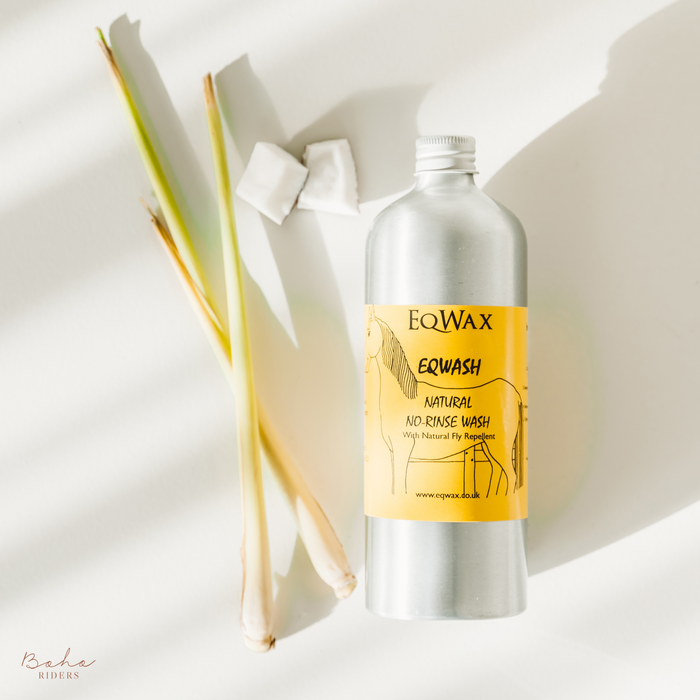 EqWax Natural No Rinse - Wash without rinsing - After-Work Wash - Insect repellent - 500 ml - 100% natural
Original price
€16,95
-
Original price
€16,95
VAT
Love it
♡ EqWax No Rinse Wash is a shampoo that allows you to wash your horse without having to hose down your horse. You make a nice soapy solution, sponge and you're done!
♡ Perfect for horses that find washing (and especially hosing down) exciting. Perfect if you want a clean horse but are limited in time or if the days are a bit colder (make a nice warm soapy water).
♡ This Natural No Rinse Wash has a cooling effect. Great to use after an intensive training, long ride or a competition.
♡ Contains lemongrass (essential oil) which is a natural fly repellent, reduces scabies, is antibacterial and antifungal.

♡ Coconut has been added to the No Rinse and this has a cleaning effect against grass stains, sweat, mud and dirt.
♡ The No Rinse Wash comes in a tin can that can be recycled forever.
♡ N natural ingredients, Cruelty Free, NO Nasties!
Not for you
» You will need a bucket and a sponge to complete your laundry job.