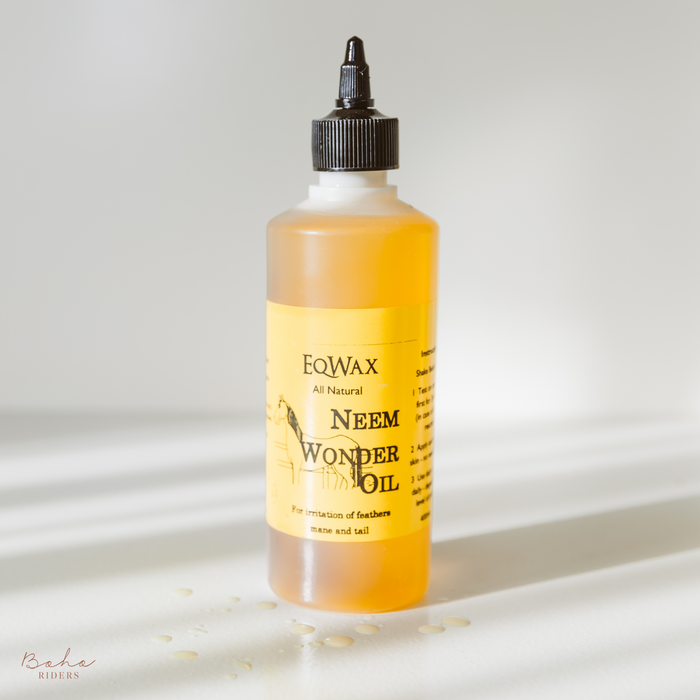 EqWax Neem 'Wonder Oil' - Can be used against itching - Forms a barrier against mug - 400 ml - 100% natural
Sold out
Original price
€11,95
-
Original price
€11,95
VAT
Love it
♡ The all-rounder for your grooming bag! To be used in the summer for horses that suffer from itching (summer eczema), to care for the mane and tail, to use preventively against mug and to take care of the socks.
♡ Because the oil does not solidify and the packaging has a handy spout, you can treat the roots of the mane and tail well and you do not have to shave or cut first.
♡ Neem oil is very suitable for the treatment of irritation of the socks, mane and tail.
♡ Contains a little lemongrass which gives it a wonderful scent, but which mosquitoes and mites don't like.
♡ Can be used in winter as a 'mud barrier', especially ideal for horses that have a lot of wallpaper.
♡ The oil has a mud repellent effect. Ideal if your horse has light socks.
♡ Natural Ingredients, Cruelty Free, NO Nasties!
Not for you
» Take 'wonder oil' we also have in a wax variant, same effect, but not liquid.