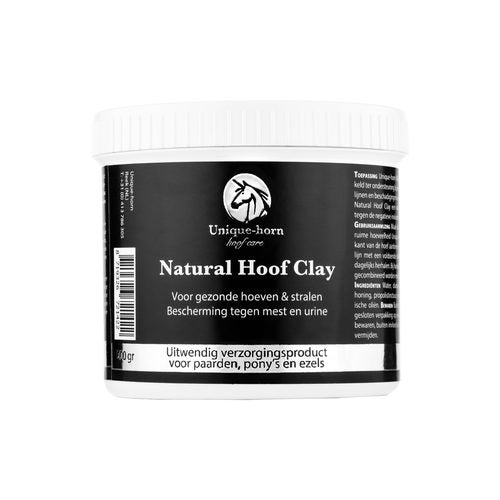 Unique-Horn Natural Hoof Clay - Hoof care - 600Gr - Clay - Damp jet, rot jet, bad white line and hoof damage
Sold out
Original price
183,00 kr
-
Original price
183,00 kr
VAT
Love it

♡ This Natural Hoof Clay can be used in horses with hoof problems such as moist / soft rays, thrush, damage in the hooves, fungi and bacteria (White line disease).
♡ Forms a natural barrier on the underside of the hoof to protect against the negative influences of manure, urine, fungi, bacteria.
♡ The great thing about this clay is that the clay is nice and firm and sticks well to the bottom of the hoof.
♡ In case of serious problems, the Hoof Clay can be combined very well with the Silver Hoof Liquid , also from Unique-Horn.
♡ N natural ingredients, Cruelty Free, NO Nasties!
Not for you
» Don't leave your jar of clay in your cupboard without a lid, the clay will dry out.