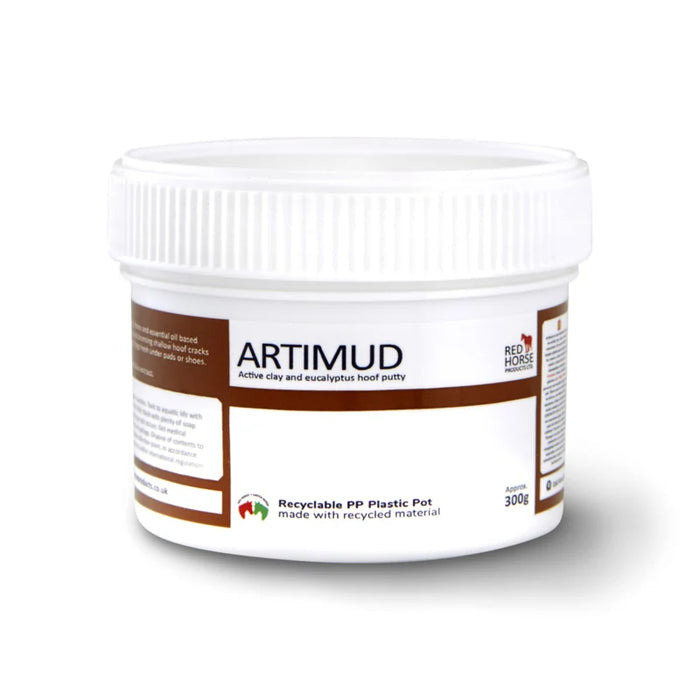 Red Horse Artimud - Hoof care - 300g - Antibacterial clay - Suitable for shallow holes and cracks - 100% natural
Sold out
Original price
€22,95
-
Original price
€22,95
VAT
Love it
♡ Artimud is a clay that you can use for deep grooves, shallow holes, cracks in the white line and holes through a hoof ulcer.
♡ What sticks very well to your horse's hooves? Mud! With that in mind, the Red Horse team came up with Artimud (Artificial Mud). However, Artimud has a positive effect on hoof health and mud does not ;-)
♡ You can knead it, roll it, flatten it, sculpt it, spread it. Artimud is like clay. This makes it easy to apply and stays in place.
♡ Artimud fights bacteria and fungi and the hoof can recover.
♡ The clay contains active ingredients to clean the damaged part in the hoof area and support the process towards healthy tissue.
♡ Natural Hourly Ingredients, Cruelty Free, NO Nasties!
Not for you
» Does your horse have very deep holes? Then Hoof Stuff or Hoof Repair Wax is more suitable.